Just writing that title makes me a little creeped out. I mean, who am I that I would ever have a personal shopper? It's absolutely ridiculous, I agree.
And yet, somehow, I do. And you can, too. Let me explain.
One of the side effects of the re-entry process back into the U.S. culture is this crazy inability to make buying decisions. (Read more about my experience with decision fatigue) In Nicaragua, if I wanted to buy Swiss cheese, there was one choice (if any, here's that back story). In the Land of Options, there is a plethora of brands of Swiss cheese, not to mention with- and without-holes, thick- and thin-sliced, cubed, or shredded. And that's just for one product. In the few years, I think the U.S. has gone goldfish cracker crazy, because there must be at least 30 new flavors of those.
I had heard stories from friends who actually burst into tears in U.S. grocery stores when faced with the decision of which type of bread or milk to buy, simply because there were too many choices. I know, I know… this really shouldn't be a problem. And yet, for some reason, after my brain got used to a limited list of choices, it adapted. In fact, it adapted so much so that after almost three years of those limited choices, my brain has a tendency to freak out a bit when given the option of more.
This is why my personal shopper has turned out to be such a great thing. About six weeks after my world was flipped topsy-turvy this winter, I realized there was a very real possibility I might be returning to the full-time, outside-of-the-home, need-to-wear-something-other-than-pjs workforce.  And with that realization came the cold hard truth that I was going to have to go clothes shopping.
For someone with decision fatigue, this can be a crippling thought. Think there are a lot of Oreo cookie choices out there? There are racks and racks, aisles and aisles of clothing options. Within our first two weeks here, I was forced to buy two sweaters because we were so cold. But that was all I could handle.
I'd left most of my clothes behind. The harsh climate in Central America (which included line-drying clothes in the blazing hot sun), plus the strong cleaning products (that could "eat" little holes into fabric on a regular basis) meant clothes didn't last very long. And the items that were in decent shape? Well, it made more sense to give them to friends then trek them all the way back to the States. "It will be a great excuse to restock," I told myself, having no idea how painful that restocking would initially feel… until I found my personal shopper.
I initially heard about Stitch Fix through an acquaintance on Facebook. When she talked about having a personal shopper, I was initially turned off. But the more I avoided the mall, and the more likely it became that I'd need a few "interview" outfits, I decided to give it a try.
I scheduled my first "fix" in February. The way it works is that first you answer a series of questions to tell your stylist all about your preferences, body type, and current clothing needs. You specify whether you're looking for jeans and tops, dresses, accessories, or sampling of each. You also identify when you'd like to receive your fix, and then you wait.
The stylist shops the Stitch Fix catalog and ships you five selections she believes will be well suited for your particular style and needs. When my first shipment arrived, I was shocked at how excited I was. Instead of staring down hundreds of clothing options, I was given five selections. FIVE! This was something I could handle even amidst my decision fatigue!
And there's something else… in a season of so much change, when loneliness lurks around every corner, receiving this shipment from a personal shopper made me feel surprisingly special. Someone had spent time considering what clothes might look good on me, and then even wrote me a little note to explain her choices. That felt good. Really good.
I kept three of the five items in that first shipment. One pair of pants that were the most comfortable pants I'd ever tried on, a top in a style I'd never considered before, and a necklace (for my girls). Here's a quick glimpse of those pieces…
Speaking of my girls, they have loved Stitch Fix as much as I have. In fact, they've begun to ask for fixes for their birthdays and special occasions. What a great gift!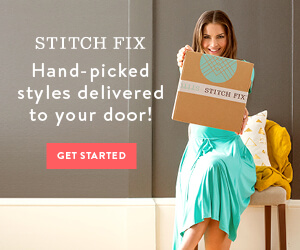 In the months since then, I've had two three more fixes. 🙂 Each time I've kept one or two items from the shipment. Any items you don't want are simply mailed back to the company in a pre-addressed, pre-paid envelope.
If you've made it this far, I'm sure the nagging question you're waiting for me to answer is… how much does it cost? First, there is a $20 stylist fee. Then, you just pay for the cost of whatever clothes you keep. I'll be honest… the clothes cost more than those I have typically bought for myself, but that's because I usually shop at Target, Ross, and TJMaxx. I would say the prices are similar to what you'd find in most department stores and malls.
If you purchase all five items in your fix, there is a 25% discount applied. And, your $20 styling fee is always subtracted from whatever items you do buy. For example, you pay the $20 styling fee up front. Then, if you only buy one item that costs $45, you will just pay $25 at checkout ($45 – $20 styling fee).
You provide feedback for each item. So if you decide not to buy an item just because of the cost, your stylist will take that into consideration when you order your next shipment. (Speaking from personal experience here.) You can also create a Pinterest board with clothing preferences, to give additional ideas to your stylist.
Thus far, I've been really happy with Stitch Fix (which is why I'm telling you about it now :)). I haven't purchase any clothing on my own, so the little money I've spent on Stitch Fix in the past four months has been the only money I've spent on clothes. Knowing there is someone out there who is hand-selecting items based on my body type and preference, makes me feel like I don't have to worry about it on my own (or waste valuable will-power on choosing between so many options). At least for this season of my life, that is a huge help.
Disclaimer: Stitch Fix offers a referral bonus. This means I will get a credit with Stitch Fix for any of my friends who order their own fixes. Having said that, I do not believe in anything but absolute honesty in terms of referrals for my friends and readers. I really do love Stitch Fix, and wouldn't recommend it if that wasn't the case. And I hope you love it too. 🙂