I love podcasts. Some are entertaining, others purely educational. Some challenge me, others really encourage. And some are downright infuriating. Regardless, I'm hooked.
Since moving to San Diego nearly two years ago, I've been walking (or using public transportation) a lot more thanks to us living in a very walkable part of town and having just one car. All this walking gives me tons of time to listen.
The following list includes some of my favorites. (You'll notice the categories are all over the place, for sure. I definitely enjoy a variety of topics.) Check them out and suggest others I should add to my rotation.
Ongoing Episodes…
First up, here are some shows that are still making new episodes. To be on this list, I must have listened to at least half and continue to subcribe. 🙂
Hands down, HIBT is my favorite. Guy interviews innovators and entrepreneurs about the movements and businesses they've created. At the end, he asks every guest how much of what they did was luck vs. hard work, and the answers are fascinating. It's like me and Scooby Doo when I was 8… I can't miss a single episode. And… it's the podcast I'd most like to be on someday (after I've built my own amazing organization, of course).
It's like me and Scooby Doo when I was 8… I can't miss a single episode. And… it's the podcast I'd most like to be on someday (after I've built my own amazing organization, of course).
If you've never listened to HIBT, here are a few great episodes to get you started:
In this one, Andrew Osenga interviews people who've made a change, or a pivot. As a self-described changemaker, and someone with several pivots in my background, I love learning about the changes others have made… and especially how they've grown as a result. (Sidebar: I'm pretty sure I met Andrew almost 20 years ago, although I'm sure he has no recollection of that.)
If you've never listened to The Pivot, here are a few engaging episodes to get you started:
OK, if you listen to podcasts at all, I don't need to tell you about Serial. This one kinda sorta got the whole can't-miss-a-single-episode mentality going in the mainstream. The first season followed the investigation into the murder of Hae Min Lee, which was recently made into a TV series. I've listened to all three seasons, but the first was definitely the most riveting for me.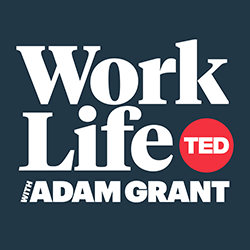 Adam Grant is an organizational psychologist I first became aware of while pursuing a degree in organizational leadership. (Because, he's basically who I want to be when I grow up. 😉 He speaks about workplace culture in ways I hadn't really heard before, yet make so much sense. He says, "We spend a quarter of our lives in our jobs. This show is about making all that time worth your time."
Two of my favorite episodes:
I first started listening to this show when a professor recommended one of Freakonomics' mini-series, "The Secret Life of a CEO." It was so fascinating I became hooked on the show, which bills itself as sharing all the things you always thought you knew (but didn't) and things you never thought you wanted to know (but do).
If you've never listened to Freakonomics Radio, here are a few more fascinating episodes to get you started:
This show's host, Shankar Vedantam, is a phenomenal storyteller. He weaves science throughout the stories to explain all sorts of stuff I have wondered about. (And, he's someone who could read the dictionary and still make it sound fascinating.)
If you've never listened to Hidden Brain, here are a few interesting episodes to get you started:
This is a relatively new podcast that explores the personal faith of a variety of famous people. Paula is a compassionate interviewer who makes her guests feel comfortable sharing stories about a topic many people in the public eye tend to avoid. I've appreciated hearing the diverse viewpoints presented.
If you've never listened to Journeys of Faith with Paula Faris, here are a few thought-provoking episodes to get you started:
---
Limited Episodes
Now, here are a few shows that aren't necessarily recurring or have stopped recording, but are definitely worth a listen…
This podcast series tells the story of Larry Nassar, the Olympic gymnastics doctor somehow abused hundreds of women and girls over the course of two decades before he was caught. It's a tragic tale of how women, over and over again, just weren't believed.
I binged on this recent podcast series because I just couldn't (and still can't) wrap my head around what it really means for Caitlin's family. Remember the Drew Barrymore film 50 First Dates? Caitlin is living that movie every single day… Listen to learn more and contribute to her family's medical expenses if you are able.
The Workaround is a six-episode series of stories about the sometimes shocking things some people do to "workaround" the U.S. healthcare system. They cover the effects of mental illnesses, the high price of insulin, and even organ donation, among others.
---
Well, those are just a few of my top-rated podcasts. Now it's your turn to tell me what you are listening to!